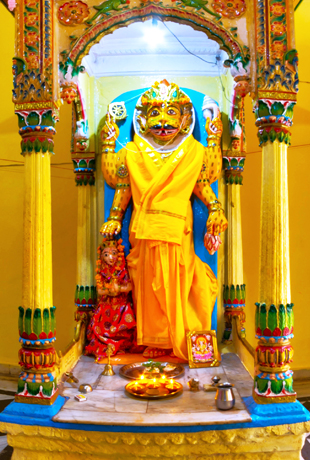 According to a story mentioned in Kashi Khand, Lord Vishnu is present in Kashi in eighteen forms, Vidar Narsimha is one of those. Vidar Narsimha is considered to be the Guardian of the Kashi who protects the city from all kind of sins and sorrows. According to the beliefs the reverents who worship Vidar Narsimha are blessed with the power to control their own unrest.
Best Time For Puja
Devotees can offer prayer at temple between 4:30 AM to 12:00 PM and from 4:00 PM to 9:00 PM. On the occasion of Vaishakha Shukla Trayodashi, Narsimha Jayanti is celebrated with full enthusiasm at the temple.
Location of the Temple
Vidar Narsimha Temple is located at A-10/82, Prahalad Ghat, Varanasi. Local conveyance is easily available to visit the temple.