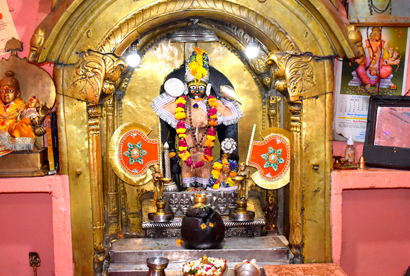 According to a saga in Kashi Khand (mentioned in Kashi Vishnu Yatra) when Lord Vishnu evicted King Divodasa from his Kingdom he established himself in the form of Adi Keshav at Padodak teerth. Thereafter, Lord Vishnu when reached Panchnad Teerth he got infatuated with the glory of Kashi. At Panchnad Teerth in Kashi, he came across a sage whose name was Agni Bindu who was engrossed in a rigorous penance. On seeing the Lord infront of him, the Sage started chanting Sholkas for Lord Vishnu. Lord Vishnu got pleased with the sage and asked him to seek any divine boon. Sage, in reply asked Lord Vishnu that he should always be present in the vicinity of Panchnad Teerth and will be known by sage's name. Accordingly, Lord Vishnu fulfilled the wish of sage and got himself established at Panchnad Teerth in the form of Bindu Madhav. From his presence, this Teerth is considered to be the most pious one and is also believed that whosoever takes a holy dip here is blessed with wealth and prosperity and get rid of all their sins and attains salvation.
Best Time for Puja
The temple remains open from 04.00 A.M. to 08.00 P.M. Mangala Aarti is held at 04.00 A.M., Shringar Aarti at 08.00 A.M. and Shayan Aarti at 08.00 P.M. At this temple Kartik Month (Hindi) Shukla Ekadasi also known as Prabodini Ekadasi is very important.
Location of the Temple
Bindu Madhav is located at H.No. K.22/37, Panch Ganga Ghat. Local transport is available for the convenience of devotees.
Panch Nada Teerth is now known as Panch Ganga Ghat and there is a lot of divinity linked to this Ghat, especially during the month of Kartik.