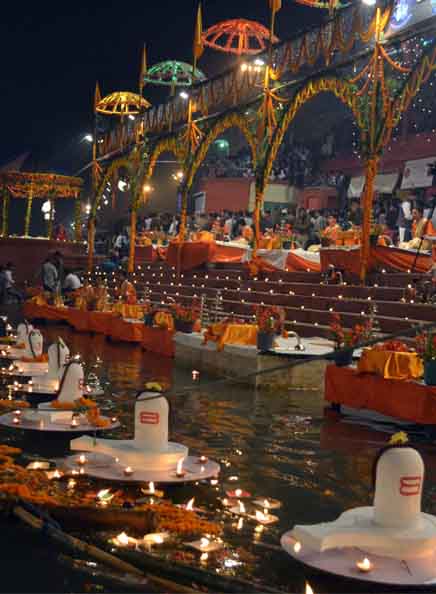 Varanasi is situated on the banks of the confluence of two rivers, Varuna and Asi.
The Ganges flows in the opposite direction in Varanasi. Its normal course is from West to East, but in Varanasi, it flows South to North.
India is a land of temples and Varnasi itself has over 23,000 temples that makes it a perfect place for religious people to spend their quality time.
It is believed that the person who takes his last breath here attains salvation.
Varanasi has nearly 84 ghats that makes it the only city in the world having highest number of river banks.
A unique tradition of frog marriage is carried out here in Varanasi with much pomp and show. Large mass of people gather at Dashaswamedh Ghat every year to see this interesting frog marriage in the rainy season.
Lord Bhairava is also known as 'Kotwal' or 'Kshetrapalaka', believed to be the guardian of the temple. There is generally a shrine dedicated to him in the temples' premise itself.
Administration opens Shringar Gauri Temple in Varanasi only once in a year for worship by devotees i.e. on the 4th day of Navratri.
Rath Yatra was initiated in Jagannath Temple of Varanasi by Visambhar Ram, and Beni Ram who constructed this two-century-old temple similar to that of Puri in Orissa.
Last updated on November 28, 2020 at 3:48 pm
© 2020 Department of Tourism, Uttar Pradesh, India | All rights reserved.