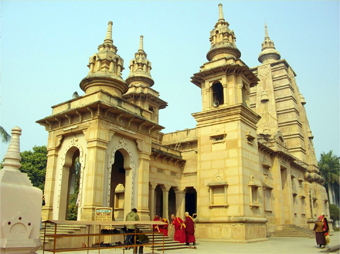 Sarnath is located at 13 Km to North-East of Varanasi and is one among the holiest Buddhist pilgrimage centres across the country. Here in Sarnath Lord after enlightenment at bodhgaya, preached his first sermon sacred as Maha Dharm Chakra Parivartan. Because of this belief Sarnath is being worshipped among Buddhists, and other believes as the centre for Buddhism Pilgrimage. Several structures and monuments here have the historical and religious significance. It is believed that Chaukhandi Stupa is the place, where Lord Buddha had met his first five disciples when he visited Sarnath for the first time.
The city consists of various historical archaeological findings also, which increases the importance of Sarnath. The Great Emperor Ashoka (273.232 B.C.) had established the smooth glistening pillar which marks the foundation of the Buddhist Sangha and the Lion Capital atop this pillar, which is India's National Emblem.
Places to visit at Sarnath
Last updated on November 28, 2020 at 3:48 pm
© 2020 Department of Tourism, Uttar Pradesh, India | All rights reserved.