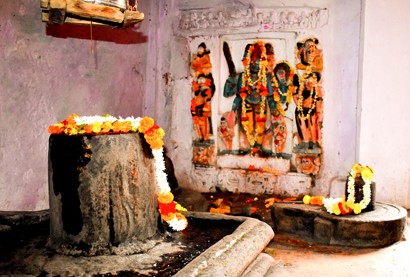 According to a story in Kashi Khand, Lord Vishnu is present in 18 forms in Kashi, Ganga Keshav is one among those. At Lalita Ghat, Lord Vishnu is established in the form of Shivalinga. As per the beliefs, Lord Shiva got pleased from the worshipping of Shivalinga by Lord Vishnu, after which Lord Shiva blessed Lord Vishnu with a boon that he can reside in Kashi in the form of Shivalinga. Being established on the bank of Ganga river, here Lord Vishnu is widely known as Ganga Keshav.
It is believed that devotees who worship Ganga Keshav will attain respect and glory in Vishnu Lok (Vaikunth Dham). According to beliefs, those who take bath in this teerth and perform Shraddh Ceremony of their forefathers they get rid of Pitradosh.
Best Time for Puja
Temple remains open for worship throughout the day and devotees can have darshan anytime.
Location of the Temple
Ganga Keshav temple is located at H.No.D.1/67, Lalita Ghat, just above the steps. Local transport is available for the convenience of devotees. Nepali Pashupatinath Temple is the landmark below which, devotees can finds Ganga Keshav, temple.