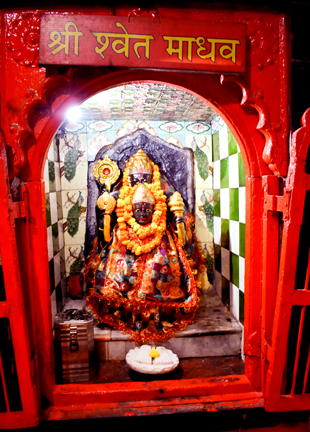 According to the story mentioned in Kashi Khand, Lord Vishnu is present in 18 forms in Kashi, Shwet Madhav is one of them. Lord Vishnu said in chapter 61 of the Kashi Khand that "I transform my form into Shwetdweepeshwar, if a devotee worships me in the form of Shwet Madhav located near the goddess Vishalakshi Gauri.
Best Time for Puja
The temple is open from 07.00 A.M. to 01.00 P.M. and from 04.00 P.M. to 09.00 P.M. Aarties are held in the morning and evening.
Location of the Temple
Shwet Madhav temple is located at H.No. D.3/71, Bade Hanuman temple at Mir Ghat. The deity is located inside the temple premises, exactly opposite Hanuman idol. Local transport is available for the convenience of devotees.