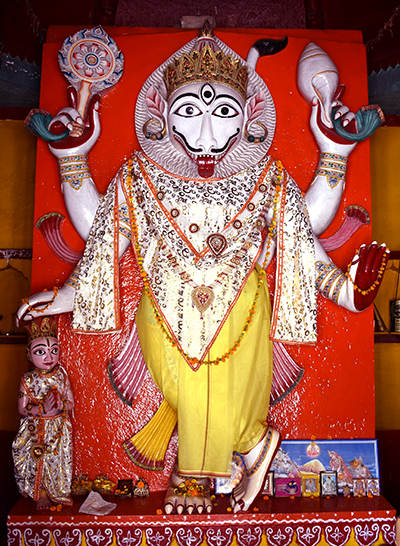 According to a story mentioned in Kashi Khand, Lord Vishnu is present in 18 forms in Kashi, Prachand Narsimha is one among those. The temple is situated in premises of Jagganath temple. Prachand Narsimha is the incarnation of Lord Vishnu, whose half body is of Lion and the remaining is of Human. Lord Vishnu took this form to end up the religious persecution on earth and to reinstate the religious value on earth. Narsimha is known as 'the Guardian or the Protector,' who protects his devotees from all the sins. According to the mythology, Lord Narsimha protected his devotee (Bhakt) Prahalad from his cruel father Hiranyakashipu and killed him. It is believed that people who worship Prachand Narsimha get liberation from all their sins.
Best Time for Puja
The temple is open from 06.00 A.M. to 12.00 noon and from 03.00 P.M. to 09.00 P.M. Aarties are held in the morning and evening.
Location of the Temple
Prachand Narsimha temple is located at H.No.B.1/151, Jagannath Temple, Assi Ghat. Local transport is available for the convenience of devotees.