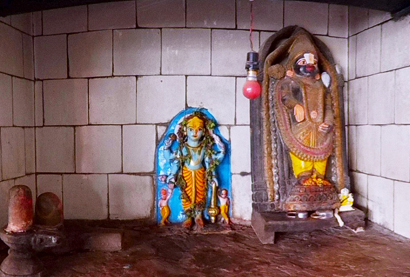 Prahalad Ghat at Varanasi is named after the devotee of Lord Vishnu i.e. Prahalad, who was protected by Lord Vishnu from his cruel father Hiranyakashyap. According to legend described in the 61st chapter of Kashi Khand, Lord Vishnu said to sage Bindu that he will reside in Prahlad Tirtha as Prahlad Keshav. It is believed that after bathing at Prahalad Ghat and worshipping Prahalad Keshav all the wishes and desires of devotees are fulfilled. Devotee should worship Prahlad Keshav for the prosperity of unusual devotion.
On the Shuklpaksh Ekadashi of Vaishakh month, Five day Narsimha fair is being organized here with full fervor along with the cultural programs.
Best Time for Puja
The temple remains open from 06.00 a.m. to 11.00 a.m. and from 06.00 p.m. to 07.00 p.m. Aarti is held in the morning.
Location of the Temple
Prahlad Keshav temple is located at H.No. A-10/80 Prahlad Ghat inside Prahledeshwar temple, on the face of Ganges, on the right side wall. Local transport is available for the convenience of devotees.