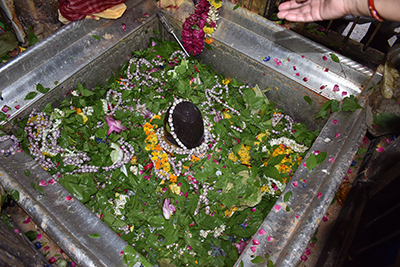 A story has been described in Shiv Mahapuran related to origin and significance of Vishweshwar Jyotirlinga, according to which when the Supreme God wished to turn into two from one then this Supreme Lord tranformed himself into Ardhanarishvara form which was a composite androgynous form of the male Lord Shiva and female Goddess Parvati. Then, this Supreme Lord did Akashvani that tenacity is supreme and by tenacity only the universe will be created. Afterwards, Lord Shiva with his powers created a beautiful 5 Kos city that was furnished with all the resources. In this city Lord Vishnu performed penance continuously for a long time for the creation of the Universe. Then with his efforts numerous water streams erupted but they were all empty ( Shunya). Seing this, Lord Vishnu was worried and then he shaked his body by which a gem dropped from his ear after which Lord Shiva carried the entire water of 5 Kos long Manikarnika on his trident where Lord Vishnu slept. Then according to the wish of Lord Shiva, Lord Brahma emerged from a lotus connected to the navel of Lord Vishnu. Then Lord Brahma with the permission of Lord Shiva created fourteen worlds along with universe.
But by thinking that how his devotees will find him, Lord Shiva kept Panchkoshi separate from the universe. Therefore, Panchkoshi is believed to be the well-wisher of the universe. It is also referred as Kashi which is believed to be the land of salvation and knowledge and beloved place of Lord Shiva. It is believed that Lord Shiva has established his own idol here and then he removed this very Kashi from his trident and set it in this mortal world. According to a belief, Kashi is not destroyed when Lord Brahma's one day ends, not even during Pralay i.e., final destruction of the world, as Lord Shiva saves this land by keeping it on his trident.
It is believed that Vishweshwar Linga established in Kashi grants salvation and fulfills all the wishes of the reverents. According to a belief, all the organisms who have originated in Kashi attains salvation. Here, there is no need of offering prayers and attain sainthood for obtaining blessings of Lord Shiva. Anyone who comes to Kashi and do darshan of Lord Vishweshwar Linga after snan attains salvation.
Best Time for Puja
Temple remains open almost 24 hours for worship with slight gap of about 1-2 hours. The day begins with Mangla Aarti at around 3:00 AM to 4:00 AM, then Bhog Aarti is performed at 11:15 AM-2:20 PM, then Sapta Rishi Aarti is carried out from 7:00 PM-7:30 PM, followed by Shringar Aarti at 9:00 PM to 10:00 PM and Shayan Aarti at 10:30 PM to 11.00 PM.
The detailed information related to the temple and various pujas performed here are available on the temple's website www.shrikashivishwanath.org
Location of the Temple
Vishweshwar Temple is located at Kashi Vishwanath Temple, Varanasi. Local conveyance is easily available to visit the temple.