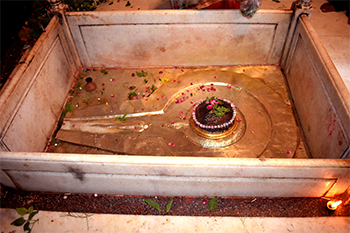 Mahakaleshwar Jyotirlinga in Varanasi is a replica of Mahakaleshwar Jyotirlinga situated in Ujjain on bank of River Kshipra in Madhya Pradesh which is one of the Dwadash Jyotirlingas. According to Kashi Khand, Mahakaleshwar Jyotirlinga is located in Mahamrityunjay Mahadev Temple premises in Maidagin area of Varanasi.
A story has been described in Shiv Mahapuran related to origin and significance of Mahakaleshwar Jyotirlinga, according to which a noble Brahmin used to reside in Avanti Nagar with his four sons. His eldest son was Devpriya, second was Medhapriya, third was Sukrit and youngest was Dharmvahi. In the same era, a Dooshan named Asura after receiving boon from Lord Brahma created chaos all over and attacked Dharma and Dharmatmas. In the end, Dooshan attacked Brahmins of Avanti Nagar with his troops. As per the orders of Dooshan, four frightening demons appeared from four directions and surrounded Brahmins. This scared all the Brahmins of Avanti Nagar. Then Brahmin sons assured all Brahmins that they should believe in Lord Shiva and by saying this, they themselves got engrossed in Lord Shiva's meditation while worshipping Shivlinga.
While Brahmin's sons were worshipping Shivlinga, as soon as the demon attacked on Brahmins, a pit was formed at the place of Shivlinga and from that pit Lord Shiva appeared in a formidable form. He then destroyed all the demons. Afterwards, all the saints and gods including Lord Brahma and Lord Vishnu praised Lord Shiva with various strotas. Upon prayers of all, Lord Shiva established himself there in the form of Mahakaleshwar Jyotirlinga to protect the masses.
According to Shiv Mahapuran, by the darshan of Mahakaleshwar Jyotirlinga reverents does not have to face any kind of grief even in their dreams. All the wishes of reverents get fulfilled and they attain salvation by the darshan of Mahakaleshwar Jyotirlinga.
Location of the temple
Mahakaleshwar Temple is located at K-52/39, Mahamrityunjay Mahadev Temple in Maidagin area of Varanasi. Local conveyance is easily available for visiting the temple.
Best Time for Puja
Mahakaleshwar Temple is open for worship from 4:00 AM till 12:00 AM.