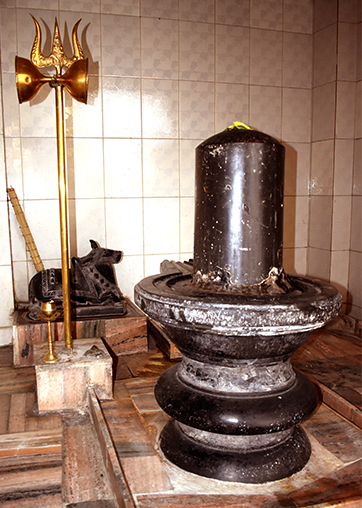 Someshwar Jyotirlinga located in Varanasi is a replica of Someshwar Jyotirlinga situated in Prabhas area of Kathiawar in Gujarat which is one of the Dwadash Jyotirlingas. According to Kashi Khand, Someshwar Jyotirlinga is situated near Manmandir Ghat in Varanasi.
A story has been described in Shiv Mahapuran related to origin and significance of Someshwar Jyotirlinga, according to which Mahatma Prajapati Daksh married his twenty seven daughters to Chandra Dev. Among his twenty seven wives, Rohini was more beloved to Chandra Dev. Therefore, feeling neglected, all his wives except Rohini went to their father Daksh seeking help. Daksh himself got depressed by hearing the grief of his daughters. As a result he requested Chandra Dev not to show such a behaviour to his daughters and said " Hey Kalanidhi! even after belonging to a pure clan why do you behave unequally with your wives. With that behaviour you may have to bear the negative consequences." In vanity of his own charm, Chandra Dev did not paid much attention to what Daksh said and continued with his unequal behaviour towards his wives. Then by knowing about such a disrespect shown by Chandra Dev to his wives i.e. Daksh's daughters, Daksh became angry and cursed him with Tuberculosis. As soon as he was cursed, Chandra Dev became feeble that created chaos all around. Seing such a condition Chandra Dev along with Lord Indra and other gods approached Lord Brahma asking for his forgiveness and seeking a solution to remove Daksha's curse to which Lord Brahma told Chandra Dev that he must go to Prabhas area and worship Lord Shiva with full devotion while chanting Mahamrityunjay mantras to free himself from Daksh's curse.
As told by Lord Brahma, Chandra Dev went to Prabhas area and performed Lord Shiva's penance for continuous six months while chanting Mahamrityunjay mantra. Pleased with his worship, Lord Shiva appeared before him and granted him a boon. Lord Shiva told Chandra Dev that in one fortnight, Chandra Dev's radiance and beauty will increase day by day and he will shine in all glory, however, Daksha's curse cannot be completely removed, so, in the next fortnight after he will shine, his radiance will deteriorate each day and he will again loose his radiance according to Daksha's curse. Afterwards, Chandra Dev along with other gods praised Lord Shiva and asked him to establish himself there along with Goddess Parvati. Then being pleased by the prayers of Chandra Dev and other gods, Lord Shiva established himself there in a form of Jyotirlinga and this Jyotirlinga was renowned as Someshwar or Somnath in all the three worlds that enhanced the significance of that place and glory of Chandra Dev.
It is believed that by worshipping Someshwar Jyotirlinga, reverents can be freed from diseases like Tuberculosis and Leprosy etc. According to a belief, by worshipping Jupiter, reverents may get rid of tuberculosis or any incurable disease and devotees who worship ten Somnath Linga they attain salvation.
Best Time for Puja
The opening and closing time of the temple is managed by local people only. In general temple is opened for reverents from 5:00 AM to 8:00 AM and 6:00 PM to 8:00 PM.
According to local people, during Mahashivratri and Saavan, large number of pilgrims visit the temple for Jalabhishek.
Location of the Temple
Someshwar Mahadev temple is located at D-16/34, Manmandir Ghat in Varanasi. Local transport is easily available for visiting the temple.