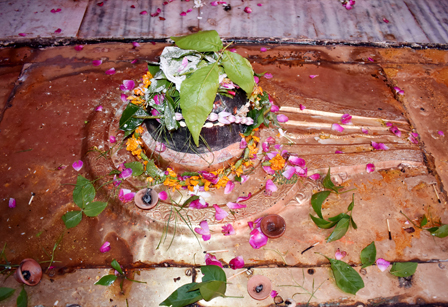 Ghrishneshwar Jyotirlinga located in Varanasi is a replica of Ghrishneshwar Jyotirlinga situated in Maharashtra which is one of the prime Dwadash Jyotirlingas. According to Kashi Khand in Varanasi Ghrishneshwar Mahadev Temple is located near Batuk Bhairava in Kamchha Devi Temple premises.
A story has been described in Shiv Mahapuran related to origin and significance of Ghrishneshwar Jyotirlinga, according to which there was a Brahmin named Bharadwaj who used to reside on Devgiri named mountain in south direction along with his wife Sudharma. This Brahman was prosperous, generous, meritorious and was a great devotee of Lord Shiva. His wife Sudeha was also a beautiful, versatile woman and a great devotee of Lord Shiva. When she could not conceive for a long period. So, to obtain the happiness of being a mother she made every possible effort. But all gone in vain. Atlast, Sudeha being anguished went to her husband and insisted that he should do something about this, else she will kill herself.
Hearing this from his wife, Brahmin got upset and started worshipping Lord Shiva then he offered two flowers in the fire of yagna and asked his wife to choose any one while wishing in his mind that if his wife will choose the flower of his right hand then they will be blessed with a son. But Sudeha chose the wrong flower. Seeing this Brahmin became hopeless and told his wife that nothing can be contradicted by what God has created and asked her to leave the hope of getting a son and serve the Lord. But Sudeha does not leave her wish for a son and requested his husband to marry once again so that they can have a son. Brahmin disagreed with this and tried to explain her that it would be inappropriate to go against god's wish. Being deprived of motherhood, Sudeha married her husband with her sister Ghushma. Ghushma as per her sister's orders daily created parthiv shivalingas, worshipped Lord Shiva and immersed these shivalingas in a lake situated nearby. Soon with the blessings of Lord Shiva, Ghushma gave birth to a beautiful and multitalented son. Seeing him, Brahmin was quite happy but seeing this Sudeha was depressed and became jealous of her sister. When her son was grown up, Ghushma married her son and brought his bride home.
Seeing a happy family of her sister, Sudeha's mind was filled with envy and she became out of her mind and one night she killed Ghushma's son while he was asleep and drowned his body in the same lake where Ghushma used to immerse shivalingas. After this cruel act of her, Sudeha came back to her house and slept happily. In the next morning, Ghushma and Sudeha wake up as usual and started performing their daily activities. When Ghushma's daugther in law wake up she saw that her husband's bed was having blood stains so she got scared and ran to Ghushma and told her about this and started mourning.
But in such a difficult situation also, Ghushma did not gave up her usual devotional worship and when she went to lake to immerse parthiv shivalinga as usual, she found her son standing on the bank of the lake. Ghushma surprisingly looked at her and her son told her that due to her good deeds, her son has received a boon of life. At the same time, Lord Shiva appeared there and told Ghushma that he is pleased with the prayers of her and that her sister only killed her son. Hearing this Ghushma requested Lord Shiva to forgive Sudeha. Pleased with her generosity Lord Shiva told Ghushma to ask for a boon. Then as a boon Ghushma asked Lord Shiva to bless all by residing there. Lord Shiva accordingly established himself there in form of Ghushmeshwar Jyotirlinga and blessed Ghushma that her coming generations will also be blessed with great sons. Afterwards, Sudeha accompanied Ghushma and they both worshipped Lord Shiva. It is believed that reverents who worship here they attain happines.
Best Time for Puja
According to local people Mahashivaratri, Shravan Mela, Vaikunth Chaturdashi are the important festivals celebrated in this temple during which large number of reverents visit the temple.
Location of the Temple
Ghrishneshwar Jyotirlinga is located near Batuk Bhairav in Kamchcha Devi Temple premises in Varanasi. Local conveyance is easily available to visit the temple.