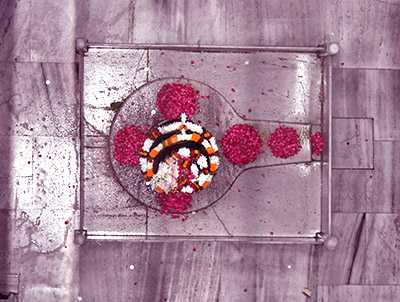 Bheemeshwar Jyotirlinga located in Varanasi is a replica of Bheemashankar Jyotirlinga situated at Sahyadri hills in Pune area of Maharashtra. According to Kashi Khand, Bheemeshwar Jyotirlinga is established at Kashi Karvat temple in Varanasi.
A story has been described in Shiv Mahapuran related to origin and significance of Bheemeshwar Jyotirlinga, according to which in ancient times there was a demon named Bheem who was a son of Kumbhkarana and Karkati. He was cruel and used to torture religious people.
In his childhood he used to live with his mother and grandparents in Sahyadri hills. Once when he asked about his father, his mother told him that Kumbhkaran, brother of Ravana was his father who was killed by Lord Rama during a war. Therefore, after death of his father his mother Karkati started living with her parents. Once a saint named Agastya killed his grandparents too.
When Bheem came to know about this, he was filled with rage and he took a vow that he will take a revenge of his father's death from Lord Vishnu. He then started performing rigorous penance worshipping Lord Brahma. After thousand years of his rigorous penance, Lord Brahma being pleased with his prayers appeared in front of him and asked for his wish. Then, Bheem asked for immense strength as a boon. Accordingly, Lord Brahma granted him wish and disappeared.
After receiving immense strength from the boon, Bheem won the battle with gods and also defeated Lord Vishnu in the battle. After that, he headed towards south and there he defeated king of Kamroop and made his entire empire his hostage. Swami Kamroopeshwar was a devotee of Lord Shiva. So, in the jail itself he created shivlinga and worshipped Lord Shiva daily along with his wife praying for the welfare of humanity. Meanwhile, all the gods along with Lord Vishnu went to Lord Shiva and pleased him with stotras and told him about the whole scenario that how Bheem was torturing humans as well as gods and requested Lord Shiva to slaughter him as soon as possible. Hearing this, Lord Shiva asked all gods to go and ask Swami Kamroopeshwar to continue worshipping Lord Shiva, at right moment he will go there to kill the demon. Accordingly, gods went to Swami Kamroopeshwar and asked him to continue worshipping shivalinga.
Afterwards, Lord Shiva went there with his army. At that moment Kamroopeshwar was engrossed in the penance of Lord Shiva. Meanwhile, someone told Bheem that Kamroopeshwar is trying to kill him. Hearing this he became angry and rushed to the king with his sword for killing him. Bheem asked the king "What are you doing? Tell me the truth otherwise I will kill you." To this king replied bravely " I am a worshipper of Supreme Lord Shiva and he himself protects his devotees, I am not afraid of you." Hearing this Bheem became angry and said " I know your Shiva, he cannot do anything to me. Stop praying Shiva and start worshipping me otherwise I will punish you." Then Kamroopeshwar replied " I cannot stop worshipping Lord Shiva. He is the Supreme Lord. He will always protect us." Hearing this statement of king, Bheem attacked king with his sword. But as soon as the sword reached Shivalinga, from Shivalinga Lord Shiva appeared and he slaughtered Bheem. Later, all the saints and gods worshipped Lord Shiva and this form of him was renowned as Bheemashankar.
It is believed that reverents who visit and worships Bheemashankar Mahadev, all their problems are resolved easily.
Best Time for Puja
Temple remains open for worship throughout the day. In the temple, Shivalinga is established below the ground level; therefore, it can be viewed from the top only.
Location of the Temple
Bheemashankar Mahadev temple is located at Kashi Vishwanath Gate N0-2 (Saraswati phatak) in Varanasi.