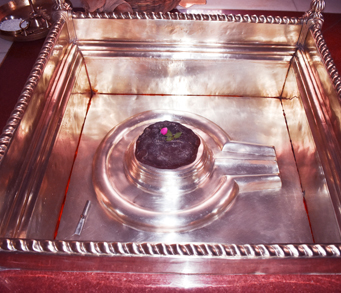 Baidyanath Jyotirlinga in Varanasi is a replica of Baidyanath Jyotirlinga situated near E.R. Railway Jasidih Station in Santhal Pargana of Jharkhand. According to Kashi Khand Baidyanath Jyotirlinga is located in Kamachha area of Varanasi and is renowned as Baijnathya.
A story has been described in Shiv Mahapuran related to origin and significance of Baidyanath Jyotirlinga, according to which when Ravana failed to please Lord Shiva even after performing rigorous penance at Kailash mountain then he started chopping off his head and offered it to Lord Shiva as a sacrifice. As a result of it, being pleased with the prayers of Ravana, Lord Shiva appeared in front of him and fixed all his heads and asked him to seek a boon. Hearing this, Ravana requested Lord Shiva to come with him to Sri Lanka.
After hearing this wish of Ravana, Lord Shiva replied " You can take my linga to your home but keep in mind that while taking the Shivlinga to Sri Lanka if you will put it on earth, it will become stable there and will not be able to move further." Afterwards, Ravana took the shivlinga and went back to Sri Lanka. On his way, he felt that he need to urinate so he handed over the shivlinga to a shepherd and went for urinating. Shepherd could not bear the heavy weight of the shivlinga, so he kept that on earth. As soon as the shivlinga was kept on the earth, it was established there. When Ravana returned he tried to lift the shivlinga off the earth but he couldn't suceed. Since then, this established shivlinga is renowned as Baidyanatheshwar and is believed to grant salvation to devotees.
Although Ravana could not take shivlinga with him to Lanka yet gods were worried when they get to know about boons received by Ravana from Lord Shiva. To ask for the resolution, all gods went to Lord Brahma. Hearing them, Lord Brahma assured that he will find some solution to this problem. Afterwards, Naradji went to Ravana and praised him and asked all the details of his penance. Ravana replied proudly that with the boon granted by Lord Shiva to him, he will soon conquer all the three worlds. To which Naradji said " Hey Ravana! Now I will tell you something of your interest. To check that till what extent the boon given by Lord Shiva is fruitful, you must go to Kailash mountain and should try to root out the Kailash mountain." Ravana got this point and left for Kailash mountain. When he reached there, he started shaking Kailash mountain to uproot it. When Lord Shiva came to know about this act of Ravana, he became angry and cursed Ravana that soon a brave man will take birth who will shatter his ego. Hearing this Ravana went back.
The greatness of this jyotirlinga has been described in Shiv Mahapurana which states that by darshan of this jyotirlinga all the wishes of reverents get fulfilled and they can get rid of their sins.
Best Time for Puja
Temple remains open for worship from 6:00 AM to 12:00 PM and 4:00 PM to 10:00 PM.
Location of the Temple
Baidyanath Mahadev temple is located near CHS Primary School Marg, 200 m from Kamaccha sankatharam hanuman Temple, Baijnattha Mohalla in Varanasi. Local conveyance is easily available to visit the temple.