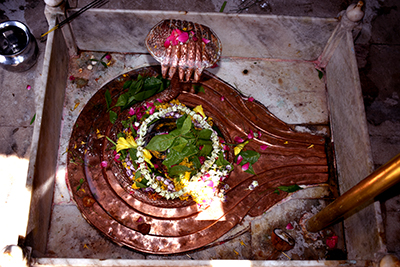 Omkareshwar Jyotirlinga in Varanasi is a replica of Omkareshwar Jyotirlinga situated in Mandhata on banks of the River Narmada in Madhya Pradesh. According to Kashi Khand, Omkareshwar Jyotirlinga is located in Omkareshwar Mohalla in Varanasi.
A story has been described in Shiv Mahapuran related to the origin and significance of Omkareshwar Jyotirlinga, according to which in ancient times Devarshi Naradji went to Gokarn Teerth and worshipped Gokarn form of Lord Shiva. Then, he went back to Vindhyanchal Mountain and worshipped Lord Shiva there also. Vindhyanchal Mountain being egotistical assumed that he is perfect. Then Naradji told Vindhyanchal that although he is flawless yet he is not counted in gods, whereas Sumeru mountain is even greater than him and is included in gods. By saying this Naradji left but Vindhya became very dejected and disheartened and being restless he made Parthiv Shivlinga and performed rigorous penance continuously for six months. Ultimately, being pleased with his penance Lord Shiva appeared in front of Vindhyanchal and asked him about his wish. In reply Vindhyanchal asked for a boon by which he can fulfill all his wishes with his intelligence.
Hearing this wish of Vindhyanchal, Lord Shiva became bit concerned as he has asked for a wish which can be the reason for grief for others. Therefore, Lord Shiva became confused as he wanted to grant wish to Vindhyanchal in such a way by which others are not troubled. So, he said " Tathastu" and then established himself there in a form of Shivlinga. Then, this Shivlinga separated into two parts in which Pranav was renowned as Omkareshwar and Parthiv was renowned as Parmeshwar.
It is believed that reverents who worships Omkareshwar Jyotirlinga attains salvation.
Best Time for Puja
Temple remains open for visit of reverents from 5:00 AM to11:00 AM , 5:00 PM to 9:00 PM. Aarti is performed in the temple in the morning. Vaisakha month is considered to be auspicious for worshipping in the temple. During this period, annual Shringar is carried out in the temple.
Location of The Temple
Omkareshwar Mahadev Temple is located at On the high mound in front of the Jalalipura Mosque in Varanasi. Local conveyance is easily available to visit the temple.