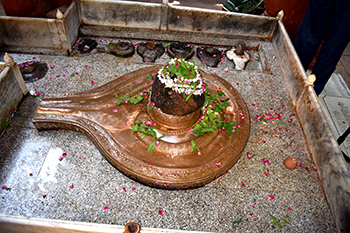 Nageshwar Jyotirlinga in Varanasi is a replica of Nageshwar Jyotirlinga located in Dwarka of Gujarat. According to Kashi Khand, Nageshwar Jyotirlinga is situated in Mahamrityunjay Mahadev Temple located in Maidagin area of Varanasi.
A story has been described in Shiv Mahapuran related to origin and significance of Nageshwar Jyotirlinga, according to which in ancient times there was a demonic named Daruka, who became egoistical after getting a boon from Goddess Parvati. Her husband's name was Daruk. Once, Daruk with his army of demons started torturing humans and began to destroy the religion. Being frightened, people went to the shelter of Maharishi Aurav. Maharishi Aurav assured people and cursed demons saying " if you all will torture humans or destroy the religion then you will loose your lives." When god came to know about this they attacked Daruka and his demons' army. This frightened demons. Seing this Daruka told demons that with the special boon granted by Goddess Parvati to her , she can carry that forest to anywhere according to her wish. Hearing this demons requested Daruka to anyhow protect their lives. Therefore, Daruka carried that forest and placed it in the middle of the sea. After that, these demons started living peacefully in the middle of the sea. There they started captivating and torturing saints, gods and humans whomsoever they encountered. Amongst all the prisoners, there was a prisoner named Supriy who was a Lord Shiva's devotee. He worshipped Lord Shiva with full dedication in the prison itself and also encouraged other prisoners to worship Lord Shiva too. Consequently, all the prisoners started chanting " Namah Shivay". Being pleased with the prayers of devotees Lord Shiva appeared in front of devotees in the prison.
Meanwhile, Daruk came to know about the presence of Lord Shiva by one of his attendant and he angrily rushed to the prison. When Daruk asked Supriya about the divine presence, Supriy denied which made Daruk angry and he ordered his soldiers to kill him. As soon as Daruk's soldier attacked Supriy, Lord Shiva appeared and started slaughtering the demons. Within seconds all the army of Daruk was demolished.
Seing this, Daruka prayed to Goddess Parvati for the protection. Being pleased by her, Goddess Parvati said to Lord Shiva " At the end of this era, Tamasi Srishti will arise. Daruka is my Shakti, she will reign over demons." To this Lord Shiva replied that " I will protect my devotees by residing here. In the beginning of Sat Yuga, a king named Veersen will be renowned who will become Chakravarti emperor after worshipping and visiting me.
Thus, Shiv-Parvati were established here in a form of Jyotirlinga that was renowned as Nageshwar Jyotirlinga and Goddess Parvati was renowned as Nageshwari. In the beginning of Sat Yuga king of Nishad who was Lord Shiva's devotee had a son named Veersen who performed rigorous penance for 12 years. Meanwhile, with the boon granted by Goddess Parvati, a demonic named Malechch became virtuous.
It is believed that this Jyotirlinga have a capability of fulfilling the wishes of all the three worlds. Thus, reverents can attain salvation by its darshan and all their wishes are also fulfilled.
Best Time for Puja
Temple remains open for worship from 7:00 AM to 9:00 AM and 7:00 PM till 8:00 PM.
Location of the Temple
Nageshwar Mahadev Temple is located at in the premises of Maha mrityunjaya temple Varanasi. Local conveyance is easily available for visiting the temple.