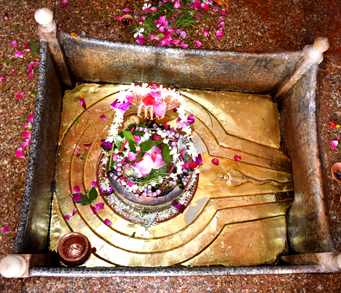 Mallikarjuna Jyotirlinga located in Varanasi is a replica of Mallikarjuna Jyotirlinga situated at Shree Shail Parvat that is on the bank of River Krishna in Krishna district of Andhra Pradesh, which is one of the Dwadash Jyotirlingas. Mallikarjuna Jyotirlinga situated in Andhra Pradesh is also renowned as "Kailash of South". According to Kashi Khand Mallikarjuna Jyotirlinga is situated at Tripurantakeshwar (mound in Sigra region) in Varanasi.
A story has been described in Shiv Mahapuran related to origin and significance of Mallikarjuna Jyotirlinga, according to which when Lord Kartikeya returned Kailash after circumambulation of earth, he left for Krauncha Parvat after greeting his parents. Being unhappy with this, Goddess Parvati and Lord Shiva decided to go to Krauncha Parvat to meet Lord Kartikeya. On other hand, when Lord Kartikeya came to know about this, then he moved 3 yojana away from Kraunch Parvat.
On reaching Krauncha Parvat when Goddess Parvati and Lord Shiva did not find Lord Kartikeya there, then in affection for their son, Lord Shiva and Goddess Parvati established themselves there in the form of Jyotirlinga and it is believed that Lord Shiva marks his presence here on every Amavasya and Goddess Parvati on every Poornima to take a glimpse of Kumar Kartikeya.The Shivlinga established here is renowned by the name of Mallikarjuna. It consist of Jyotir forms of Lord Shiva and Goddess Parvati both. "Mallika" means "Goddess Parvati" and "Arjuna" means "Lord Shiva".
It is believed that by worshipping Mallikarjuna Jyotirlinga reverents can get rid of all their sins and all their wishes are fulfilled. It is believed that merely by darshan of Mallikarjuna Jyotirlinga reverents can attain overall happiness in their lives.
Best Time for Puja
Temple is open for worship from 6:00 AM to 11:30 AM and 5:00 PM to 9:00 PM in the evening.
However, according to the number of pilgrims, timings of the temple may be extended.
Location of the temple
Mallikarjuna Mahadev temple is located in front of Hotel Poorvika, next to Sheetla temple in Varanasi. Local conveyance is easily available for visiting the temple.