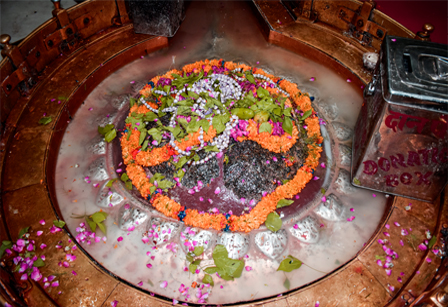 According to Shiv Mahapuran, Kedarnath is located in Kedar Parvat of Himalayas in the western direction of Mandakini. Kedareshwar Jyotirlinga located at Kedar Ghat of Varanasi is a replica of Kedarnath of Himalayas. It is believed that by worshipping Kedareshwar Jyotirlinga of Varanasi, reverents can obtain same punyafal as that received from darshan of Kedarnath of Himalayas.
A story has been described in Shiv Mahapuran related to origin and significance of Kedareshwar Jyotirlinga, according to which once Lord Vishnu took a twin-brother avatar as Nar and Narayan. They both went to Badrika forest area of Himalayas and started performing penance after establishing a parthiv shivalinga there. Being pleased with their prayers, Lord Shiva appeared in front of them and asked them to seek a boon. Then as a boon Nar-Narayan asked Lord Shiva to established himself there so that all his devotees can be blessed with his presence.
Lord Shiva granted their wish and established himself there in form of jyotirlinga in Kedar of Himalayas and was renowned as Kedareshwar. In this way Lord Shiva who destroys all the miseries, sufferings, fears and sins of all creatures, devotees and reverents started residing in Kedar mountain. It is believed that by worshipping and darshan of Kedareshwar all the wishes of reverents are fulfilled.
Best Time for Puja
Temple remains open for worship from 3:00 AM to 11:00 PM. Mangala Aarti is performed at 3:15 AM, Bhog Aarti at 10:00 AM, Sandhya Aarti at 5:30 PM and Shayan Aarti at 10:30 PM.
Location of the Temple
Kedareshwar Mahadev temple is located at B-6/102, Kedar Ghat in Varanasi. Local conveyance is easily available to visit the temple.