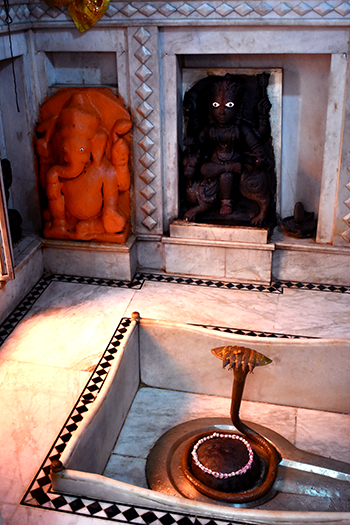 Trimbakeshwar Jyotirlinga located in Varanasi is a replica of Trimbakeshwar Jyotirlinga situated on bank of River Godavari near Brahma Giri in Nasik district of Maharashtra which is one of the prime Dwadash Jyotirlingas. Trimbakeshwar Jyotirlinga in Varanasi also known as Triloknath at Purshottam temple in Badadev Mohalla.
A story has been described in Shiv Mahapuran related to origin and significance of Trimbakeshwar Jyotirlinga, according to which in ancient times there was a sage named Gautam whose wife was Ahilya. He performed rigorous penance in the south direction of Brahma Giri mountain for around ten thousand years. Once for around hundred years there was no rain in that region. Therefore, it became difficult for the survival of all organisms there. By seeing such a situation, sage Gautam got engrossed in the penance to please Lord Varuna. Being pleased with the prayers, Lord Varuna appeared in front of him and asked him to seek a boon. As a boon sage Gautam asked for water. Lord Varuna granted his boon and asked Gautam to dig a pit of his hand's size, sage Gautam did as asked. Then Lord Varuna with his divine powers filled the pit with water and told sage Gautam that this teerth will be Akshay Jal Teerth (inexhaustible water pilgrim) and will be known by sage's name only. Thereafter, that water pilgrim was known as Gautam Teerth and also stated that whosoever will perform activities like donations, havan, penance and worship their forefathers here will be blessed.
Afterwards, sage Gautam started performing his daily routine activities and also sow various types of grains, which produced a variety of trees and various types of flowers, fruits etc. there. Thereafter, various organisms returned to that place and started living there with harmony.
Once disciples of sage Gautam went to take water from this water teerth. At the same time wives of other sages too came to take water from there. On the water teerth a dispute arose between sage Gautam's disciples and other sages' wives that who would take the water first. Meanwhile, sage Gautam's wife Ahilya came there and asked other sages' wives to allow disciples to first take water as they came there before them. Due to this, wives of other sages felt inferior and thought that Ahilya is taking side of sage's disciple because that water was due to sage Gautam's penance. Therefore, being disgruntled with Ahilya, sages'wives provoked their husbands to let down sage Gautam. Thereafter, all the sages started worshipping Lord Ganesha for this purpose. Being pleased when Lord Ganesha appeared in front of them, they asked Lord Ganesha to somehow remove the sage Gautam from this ashram. Hearing this, although Lord Ganesha tried to explain sages that this is unfair, yet they all were firm in their wish. Eventually, Lord Ganesha had to fulfill their wish. So, Lord Ganesha took a form of a weak cow and started grazing grain in the field of sage Gautam. Seeing a cow grazing his field, saint softly tried to move cow out of his field. During this, that cow fell on the ground and died.
All the sages when came to know about this they blamed sage Gautam for Gau Hatya (cow slaughter) and evicted him along with his family from Ashram. Sage Gautam was anguished with this whole event and he left and started living around 2 miles away from the Ashram. But all sages made it difficult for them to live there also. Even they deprived sage Gautam from the right of praying and performing yagnas. When sage Gautam asked other sages about a remedy for atonement, then sage told him that the only remedy for atonement is that he must circumambulate whole earth thrice and then come back to this place and must fast for a month or must circumambulate Brahm Giri mountain for around one thousand times and then he must bring Ganga to that place with his penance in which he must take a holy bath and then he must establish around ten million parthiv shivlingas and perform rudrabhishek of them, then only he can get rid of his sin of Gau Hatya. Sage Gautam agreed to this and after circumambulating the Brahm Giri mountain he started worshipping shivlinga after establishing it, his wife accompanied him with all the disciples of the sage. As told by sages, sage Gautam performed all the acitivities and then he started worshipping Lord Shiva. Being pleased with his prayers, Lord Shiva appeared in front of him and asked him to seek a boon. As a boon sage Gautam asked Lord Shiva to free him from the sin of Gau Hatya. Hearing this Lord Shiva told sage that he was falsely blamed for Gau Hatya, instead those sages who blamed him are the real culprits and should be punished for that. But sage Gautam requested Lord Shiva to forgive them as due to them only he was able to have darshan of Lord Shiva. This behaviour of sage pleased Lord Shiva and he again asked sage to seek a boon. In reply sage asked Lord Shiva that he should give him Gangaji so that he can save the world. Lord Shiva agreed and gave him a part of Ganga that was gifted to him by Lord Brahma on his marriage. As a result, Gangaji appeared there in form of a beautiful lady. Seeing her there, sage Gautam praised her and asked her to sanctify him with his holy water.
Hearing this wish of sage Gautam, Lord Shiva commanded Ganga to sanctify the sage. Hearing this Gangaji agreed to sanctify the sage but insisted that after doing so she will return back to heaven.
Lord Shiva then ordered Gangaji to remain there till Kalyug will prevail. Gangaji agreed to this and asked Lord Shiva to reside on earth along with Goddess Parvati. In this way Ganga was originated in the south in form of Godavari. All the sages along with sage Gautam worshipped Lord Shiva and Gangaji and Lord Shiva established himself there in form of Trimbak Jyotirlinga.
As a result of the worship of sage Gautam, Gangaji originated from that mountain and from that time the place became famous as Gangadwar. It is believed that reverents who worship and visit here are freed from all kinds of sins.
When all other sages came to Gangaji to sanctify themselves, Gangaji disappeared. Seeing this sage Gautam requested river Ganga to give her darshan to other sages also. Then there was a Akashvani that the sins of that sages will be removed only when they will circumambulate Brahm Giri mountain one hundred times and only after this they will have a darshan of holy river Ganga. All the sages did as told by Gangaji and the lower part of Gangadwar became famous as Kushavart and then river Ganga appeared there also. It is believed that reverents who take a holy dip here are freed from all their sins and attain salvation. In the same way, reverents who worship Trimbak Jyotirlinga are freed from their sins and attain salvation.
Best Time for Puja
Temple remains open for worship from 6:00 AM to 11:00 AM and from 5:00 PM to 9:00 PM Aarties are held in the morning and evening.
Location of the Temple
Trimbakeshwar (also known as Triloknath)Mahadev Temple is located at 10 meter away from K.C.M. cinema to Dashashwamedh police station in Varanasi. Local conveyance is easily available to visit the temple.