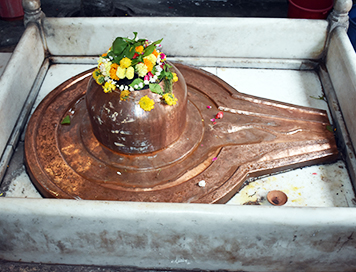 Rameshwar Jyotirlinga in Varanasi is a replica of Rameshwar Jyotirlinga situated on sea shore in Tamil Nadu. According to Shiv Mahapuran, this Jyotirlinga was established by Lord Ram in Treta Yuga. According to Kashi Khand, Rameshwar Jyotirlinga is established in Man Mandir Mohalla in Varanasi.
A story has been described in Shiv Mahapuran related to origin and significance of Rameshwar Jyotirlinga, according to which when Ravana abducted Sita and took her to Lanka in Treta Yuga, then Lord Vishnu in Ramavatar reached seashore present in Southern India along with Sugreev, Hanuman and Padma Vanar Sena. On sea shore he worshipped Lord Shiva and prayed for his protection and prayed to Lord Shiva to help him in the battle with Ravana to take Sita back home. Pleased with the prayers, Lord Shiva appeared in front of Lord Ram and asked him his wish to which Lord Ram asked Lord Shiva to establish himself there for the welfare of the mankind. Lord Shiva fulfilled his boon and established himself there as Rameshwar Jyotirlinga. Afterwards, with the blessings of Lord Shiva, Lord Ram along with his troop crossed the sea and after killing Ravana and his demon army took Sita back home.
It is believed that whosoever pour divine ganga jal (jalabhishek) on Rameshwar Jyotirlinga, attains salvation.
Best Time for Puja
Temple remains open for worship from 5:00 AM till 12:00 PM and 6:00 PM till 9:00 PM.
Location of the Temple
Rameshwar Mahadev temple is located at Manmandir Ghat in Varanasi. Local conveyance is easily available to visit the temple.