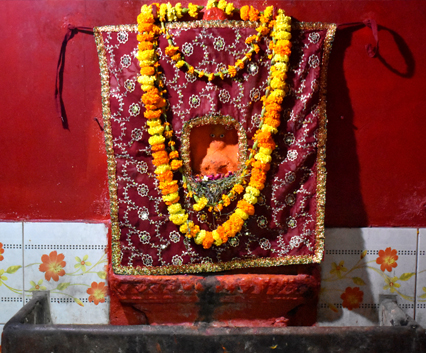 Based on a legend described in Kashi Khand, in ancient times a Brahmin named "Vriddhharit" lived in Varanasi. Once he established an idol of Suryadev at southern side of Vishalakshi Devi and started performing a severe penance devotionally. Being pleased with his prayers Suryadev manifested before him and gave him a boon of Soundaryrapunj Taran ( youth)as wished by the Brahmin and established himself there. Since then he is popularly known as Vriddh Aditya here. As per beliefs, by worshipping Vriddh Aditya, devotees can attain siddhi and get relieved from all sorts of diseases.
Best Time for Puja
Temple remains open for worshipping from 6:30 A.M. till 9:30 P.M.. The above timing may change according to the situation.
Location of the Temple
In Varanasi, Vriddh Aditya temple is located at D-3/15, at south of Bade Hanuman Ji on Meer Ghat. Local conveyance is easily available to visit the temple.