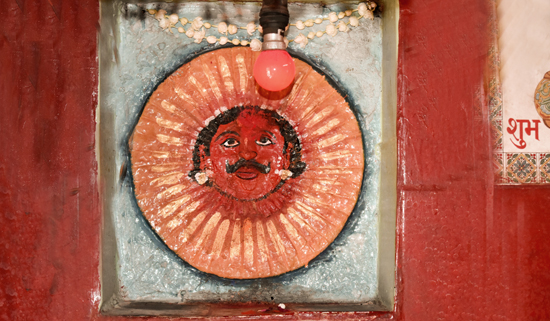 According to Kashi Khand, Suryadev is established as Uttarark Aditya at Ark Kund in the north of Kashi. Presently, this Kund is known as Bakaria Kund. Based on a story mentioned in Kashi Khand, once a Brahmin girl named Sulakshna was engrossed in a rigorous penance of Uttarark Aditya form of Surya Dev after she lost her parents. Seing Sulakshna engrossed in penance, Maa Parvati got pleased with her and asked her to seek a boon. Hearing this Sulakshna saw goat who accompanied her with patience during her entire penance. So, she requested Goddess Parvati to bless that goat with the boon in place of her. Seeing the altruistic nature of Sulakshna, Goddess Parvati was highly impressed and gave her a boon that she will be her companion (Sakhi) for lifetime. She also gave a boon to the goat that she will become the daughter of Kashiraj in her next life. Since then, Suryadev is established there as Uttarark Aditya. As per beliefs, he resolves all the problems of his devotees, add supreme joy and always act as a saviour of Kashi. Any devotee who worships Uttarark Aditya, she/he is freed from all kinds of fears and inequality.
Best Time for Pooja
The temple remains open for worship from from 05:00 AM till 12:00 at noon and again from 05:00 PM till 10:00 PM at night. Aarti is performed here at 08:00 AM daily.
Location of the Temple
Uttarark Aditya temple is located at Alaipur, Bakaria Kund near Varanasi. Local conveyance is easily available for reverents to visit the temple.