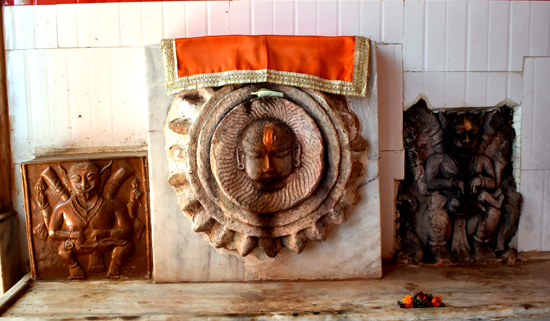 Based on a story described in Kashi Khand, in ancient times, Dakshprajapati had two daughters namely Kadru and Vinta who were married to the son of Marichi Prajapati Kashyap. Once while playing they started conversing. Kadru asked Vinta that a horse who is part of the chariot of Suryadev is white or spotted? Kadru also put a bet that the loser will have to become the slave of the winner. Thus, Kadru said spotted and Vinta said white. Later Kadru ordered her snake sons to go to Ucchaishrava (the horse) and cover its tail while spitting poison so that the colour of the horse will appear spotted. Sons obeyed their mother. Thus, both Kadru and Vinta saw the Ucchaishrava as spotted while passing through the sky. As per the bet, Kadru won and Vinta has to become her slave. From that time onwards Vinta served Kadru and her sons which made her feel depressed all the time.
Garuda, the son of Vinta by seeing her mother sad asked her the reason. Then, he came to know that as Vinta is a slave of Kadru that is why she remains upset all the time. He told her mother to ask from Kadru's son that at what cost, they will make her free from slavery. Vinta did so. Kadru's snake sons replied that in the exchange of Nectar, they will free Vinta from slavery. So, Garuda went to heaven to approach gods for Nectar to get her mother free from slavery. Garuda displayed wisdom there and succeeded to get the Nectar. When Lord Vishnu came to know about this, he had a huge war with Garuda. During battle, Lord Vishnu saw the valor of Garuda and asked him to seek a boon. In turn, Garuda asked Lord Vishnu to seek a boon. In reply Lord Vishnu asked for two boons from Garuda. First one was that Garuda should only show the nectar to snakes and make his mother free from slavery and ensure that snakes should not taste the nectar. Second one was that Garuda should return the nectar to gods safely after freeing her mother from slavery. Garuda reached to snakes, handed over the nectar to them and made her mother free from their slavery as mutually agreed earlier. Later when snakes tried to taste the nectar, Garuda told them that if anyone will touch the nectar without having a bath, it will be lost.
When snakes went for bath, Lord Vishnu took the nectar pot and left. When snakes returned they didn't found the nectar there. Seeing this, with the wish to just taste a drop of the nectar snakes started licking Kushes, on which nectar pot was kept. In this process, they couldn't get nectar but their tongues slitted into pieces.
When Vinta got freedom from slavery then she moved to Kashi for atonement of the sins that made her slave. She made an idol of Khakholak Aditya and was engrossed in a rigorous penance. Suryadev being pleased by her penance established himself there as a boon to her and became popular as Khakholak Aditya. As per beliefs, Khakholak Aditya removes the hurdles from the lives of his devotees. Those who worship Khakholak Aditya get rid of all kinds of sins.
Best Time for Puja
Temple remains open for worship from 5:00 AM to 12.00 noon and from 5:00 PM to 10:00 PM. Mangala Aarti is held here at 5:30 AM and Shayan Aarti at 9:30 PM.
Location of the Temple
In Varanasi, Khakholak Aditya temple is located at D-2/9 Kameshwar Temple , Mahadev, Macchhodari . Local conveyance is easily available to visit the temple.