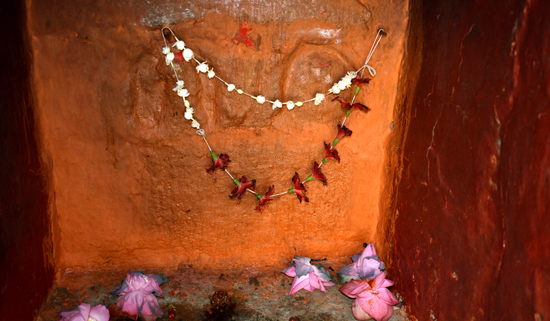 Lolark Aditya is situated on Lolark Kund near Asi Ganga Sangam in Varanasi. Lolark Kund has been given great importance in Kashi. Lolark Aditya have been categorized as one of the most beautiful locations of Varanasi and it is believed that they take care of the welfare of natives of Kashi. Being on Asi Sangam where the water of Lolark Kund meets with the water of River Ganges and then reaches to other pilgrimages in Varanasi, it has been considered as one of the prominent pilgrimage in Varanasi.
According to a story mentioned in Kashi Khand, Lord Shiva ordered Suryadev to move to Kashi and cast some dents into the flawlessness of Divodas' rule in order to reduce his powers and evict off the religious King Divodas. Suryadev obeyed Lord Shiva's orders and proceeded to Kashi.
On reaching Kashi, Suryadev got excited to explore the city that gives salvation. Later, Suryadev carried out internal and external checks in the city but could not find any unrighteousness against the king. Finally, Suryadev decided not to return to Mandarachal and got himself established in Kashi in the form of his twelve idols. Because Lord Aditya got mesmerized with the beauty of Kashi, thus he was called as Lolark here.
It is believed that if someone go for annual visit to Lolark on Sunday of Agahan month then he can get rid off all his sins. The devotee who takes a dip at Asi Sangam, and offers Shradh of their forefathers, he is freed from Pitra-Rin. On Shukla Saptami of January-February, if a person takes holy dip in the confluence of River Ganges and Asi, in the Lolark Kund, he is freed from all his sins of his seven births.
Best Time for Puja
This temple remains open throughout the day for worshipping. Darshan-Poojan in this temple on Sundays holds special significance.
Location of the Temple
In Varanasi, Lolark Aditya temple is located near Lolark Kund, Tulsi Ghat. Local transport and ghat-route is easily accessible to visit the temple.