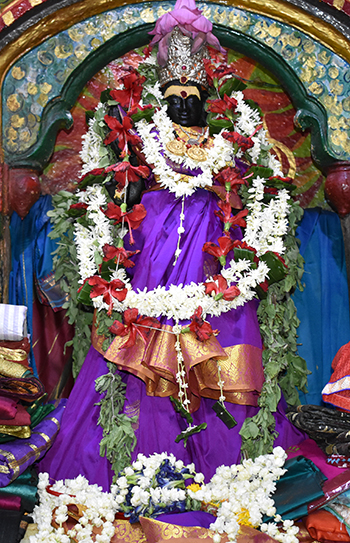 The fifth day of Vasantik Navratri is dedicated to Goddess Vishalakshi Gauri. The temple of Goddess Vishalakshi is situated at Vishal Tirtha of the Dharmakoop area at Mir Ghat.
It is believed that the devotees who take bath in Vishal Tirtha and worship Vishalakshi Gauri will attain the benefit of the great Lakshmi, who gives mangal in Ubhaylok and all their desires gets fulfilled. It is believed that by worshipping Vishalakshi Gauri, Childless women will be blessed with offspring and a wealthy and healthy life can be achieved.
Temple is known for its temple festival on Kajali Teej, held on the third day of the second week in the Hindu month of Bhadrapada (August). Any type of puja, charity, recitation of Devi mantras performed in this premises is considered to yield good results.
Best Time For Puja:-
The temple is open from 04.30 a.m. in the morning to 11.00 a.m. and from 05.00 p.m. to 10.00 p.m. The timings may change. Aarties are held in the morning and evening.
Location of the Temple
Vishalakshi Gauri Temple is located at D3/85, Mir Ghat in Varanasi. Local transport is available for the convenience of devotees. Devotees generally combine prayers at this temple alongwith darshan of Visweshwar / Annapurna temple.