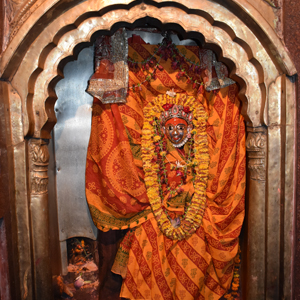 According to the story mentioned in the 49th chapter of Kashi Khand, The eigth day of Vasantik Navratri is dedicated to the eighth form of Goddess Gauri that is Goddess Bhavani Gauri. According a legend described in Kashi Khand, once Surya Dev established a Shivlinga and a idol of Goddess Gauri at Panchnad Teerth ( Panchganga Ghat) and performed rigorous penance. Being pleased with his prayers, Lord Shiva himself appeared in front of him along with Goddess Parvati and established himself there along with Goddess Gauri ( a form of Goddess Parvati) as a boon to Surya Dev. It is believed that by worshipping Goddess Mangala Gauri, devotees are blessed with all sort of happiness and prosperity in their lives.
Best Time For Puja:-
The temple is open from 05.00 a.m. to 01.00 p.m. and from 03.00 p.m. to 10 p.m. Aarties are performed in the evening. There is usually a large crowd on Tuesdays. Mangala Gauri is one of the 9 Gauris which are worshipped in Navratri falling in March-April (9 days preceding Ram Navami).
Location of the Temple
Mangala Gauri Temple is located at K-24/34, Panchganga Ghat. Mangala Gauri temple is a famous landmark. Local transport is available for the convenience of devotees.