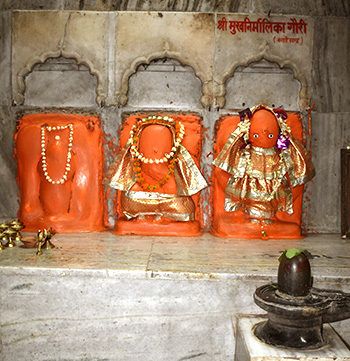 Worshipping nine forms of Goddess Durga during Vasantik Navratri holds spiritual significance. On the first day (pratipada) of Navratri, large number of devotees visit Kashi to worship Goddess Mukhnirmalika Gauri. According to a belief, when Lord Shiva appeared in Kashi to reside here, Goddess Gauri also accompanied him to Kashi to bless her devotees. Since then, it is believed that Goddess Mukhnirmalika Gauri blesses her devotees while residing in Kashi. It is believed that devotees who worship Mukhnirmalika Gauri will get all sorts of happiness and prosperity in life.
Best Time for Puja:-
Devotees visit this temple on the first day of Vasantik Navratri in March – April. The temple is open from 06.00 a.m. to 10.00 a.m. and from 06.00 p.m. to 08.00 p.m. Timings are flexible.
Location of the Temple
Mukhnirmalika Gauri Temple is located at K.3/42, Hanumanji temple at Gai Ghat.Local transport is available for the convenience of devotees.
Devotees visit this temple on the first day of Chaitra Navaratri especially in March-April.