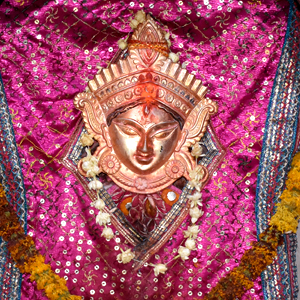 The seventh day of Vasantik Navratri is dedicated to Goddess Bhavani Gauri. It is believed that Goddess Bhavani Gauri removes all sorts of obstacles and disasters from the lives of her devotees. By taking bath in Bhavani Teerth and worshipping Goddess Bhavani Gauri, fear is believed to be removed from devotees' lives and they attain happiness and prosperity.
Best Time For Puja:-
Temple remains open for worship from 05.30 a.m. to 11.30 a.m. and from 05.00 p.m. to 09.30 p.m. Timings are flexible.
Location of the Temple
Bhavani Gauri temple is located at the premises of Annapurna Devi. The deity is located between Kali Devi and Jagannath. Regarding directions to reach this place, kindly refer to Visweshwar temple. Local transport is available for the convenience of devotees
Devotees visit this place of worship on the seventh day of Chaitra Navaratri in March-April.