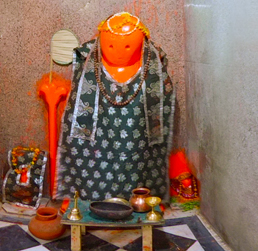 Lord Samhar Bhairav is believed to help his devotees in getting rid of their bad deeds (Karma) of their past. It is believed that this avatar of Lord Bhairav annihilates the sins of the devotees who worship him. According to beliefs, he is the guardian of the North-East direction.
Best Time for Puja:-
Temple remains open for worship from 05.00 a.m. to 11.00 a.m. and from 05.00 p.m. to 09.30 p.m.
Location Of The Temple
Samhar Bhairav Temple is located at A.1/82, Patan Darwaja, near Gai Ghat. Local transport is available for the convenience of devotees.