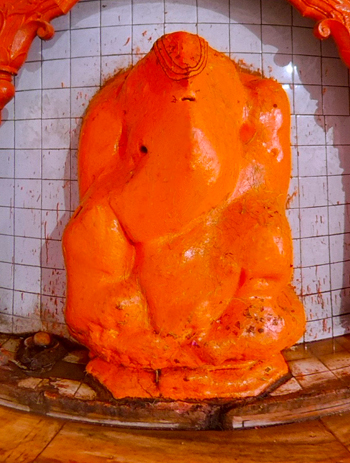 According to a saga in Kashi Khand, Mitra Vinayak form of Lord Ganesha is a part of Ekadash Vinayak Yatra. Mitra Vinayak is believed to be as Swayambhu (self-emerged) and one of the main deities among Ekadash Vinayak. It is believed that those who worship Mitra Vinayak are blessed with success and prosperity. The idol here is of bright orange color and is trinetra (three eyed). Being the son of Lord Shiva it is believed that the third eye of Mitra Vinayak protects devotees from all kinds of sins. Mitra Vinayak is considered to be the well-wisher of humankind, because of which this form of Lord Ganesha is known as Mitra Vinayak.
Best time for puja
Temple remains open for worship from 05.00 a.m. to 11.30 a.m. and from 12.30 p.m. to 9.30 pm. Special Aarti is held from 07.00pm to 8.30 p.m.
Location of the Temple
Mitra Vinayak is located at Ck-7/158, Scindia Ghat in the premises of Atma Veereshwar which is a famous locality in Varanasi. Local transport is available for the convenience of devotees.