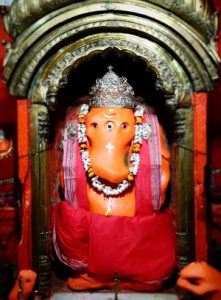 According to a legend described in Kashi Khand, the Siddhi Vinayak form of Lord Ganesha is included in the Ashta Vinayak Yatra. The idol of Shree Siddhi Vinayak is considered to be self manifested (Swayambhu) and is approximately 3.5 feet high and 3 feet wide, with the trunk on the left. The orange glaring figure has three eyes and dressed in red attire. It is believed that by worshipping Siddhi Vinayak devotees can attain Siddhi.
Best Time for Puja
The place of worship remains open throughout the day.
Location of the Temple
Siddhi Vinayak temple is located at Ck. 9/1, near Mani Karnika Kund in the steps. Local Conveyance is available for devotees.