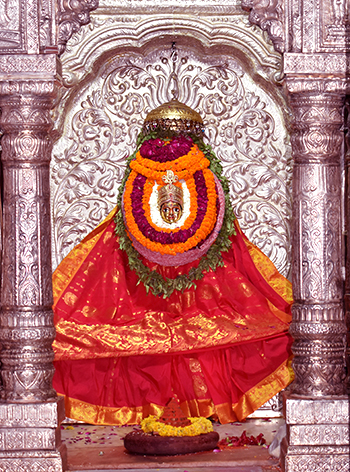 According to Purans, Goddess Annapurna established in old Kashi Vishwanath temple is known as Goddess Mahagauri. She is eighth form of Goddess Durga.
It is believed that by worshipping Goddess Mahagauri, devotees can get rid of their sins and can attain divine achievements. According to beliefs, by worshipping Goddess Mahagauri devotees can obtain benefits of worshipping all the goddesses in the world. Every year from Dhanteras viz. Triyodashi before Deepavali Amavasya to one day after Amavasya (total four days), South Indian devotees come for Deepavali Darshan of Golden Annapurna along with Ganga Snan and Vishwanath Darshan.
Best Time For Puja:-
Temple is open for worship from 05.00 a.m. to 10.00 p.m. Aarties are conducted in the morning and evening. Annadanam is done daily at the temple premises in the afternoon where devotees are offered free food.
Location of the Temple
Mahagauri Durga Temple is located at D-9/1, Annapurna Temple. The narrow lane or Gali approaching the temple is known as Vishwanath Gully.
Local transport is available for the convenience of devotees.