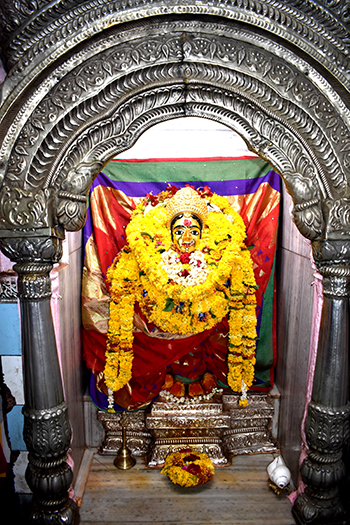 The second day of Shardiya Navratri is dedicated to the second form of Goddess Durga that is Goddess Brahmacharini. Here Brahmacharini means one who observes penance. It is believed that Goddess Brahmacharini underwent a rigorous penance for several thousand years to be blessed with Lord Shiva as her husband. Due to this rigorous penance, she was called Tapascharini.
It is believed that by worshipping Brahmacharini Durga, devotees are blessed with success.

Best Time For Puja:-
The temple is open from 06.00 a.m. to 01.30 p.m. and from 04.00 p.m. to 11.00 p.m. Aarti are performed at 06.00 a.m. (Mangala Aarti), 04.00 p.m. (Sandhya Aarti) and 11.00 p.m. (Shayan Aarti).
Location of the Temple
Brahamcharnini Durga temple is located in the street at right side from Vegetable market just at the back of Kaal Bhairav temple. Local conveyance is available for convenience of devotees.