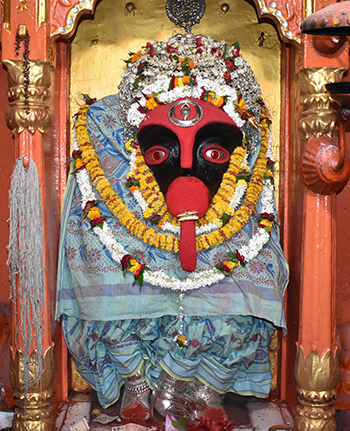 The seventh day of Shardiya Navratri is dedicated to the worship of seventh form of Goddess Durga that is Goddess Kalratri. According to a belief, body of Goddess Kalratri is depicted as pitch black skinned just like darkness, her hair appears disbanded, she wears a skull garland around her neck which shines like lightning, she has three eyes that are round like universe and light continuously radiate out from her eyes. She exhales fire flames continuously through her nose. Although her appearance is fierce, yet she always grant auspicious boons to her devotees, which is why she is believed to be a Shubhkari. With her blessings devotees are freed from any kind of fear. According to beliefs, Kalratri is a very powerful Goddess that blesses her devotees with fearless life. Her devotees are free from the fear of fire, water, animals, enemies and night etc.
Best Time For Puja:-
Worshipping Goddess Kalratri during Shardiya Navratri holds umost importance. The temple is open for worship from 6.00 a.m. to 12.30 p.m. and from 4.00 p.m. to 10.30 p.m. Aarties are held in the temple twice i.e. morning and evening.
Location of the Temple
Kalratri Durga Temple is located at D.8/17, Kalika Galli, which is a lane parallel to Annapurna – Vishwanath Lane. Local transport is available for the convenience of devotees. This temple is one of the Shakti Peeths of Varanasi.