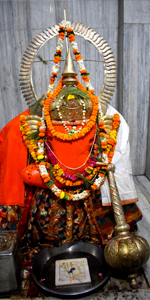 According to a legend described in Kashi Khand, the Asha Vinayak form of Lord Ganesha is included in the Ashta Pradhan Vinayak Yatra. It is believed that by worshipping Asha Vinayak all the wishes of devotees are fulfilled.
Best Time for Puja
Temple remains open for worship from 7:00 AM to 01:00 P.M. and again from 4:00 P.M. to 09:00 P.M. In the temple, aarti is performed twice daily.
Location of the Temple
In Varanasi Asha Vinayak temple is located at D-3/71, Meer Ghat, Bada Hanuman Temple. It is present in the premises of Vishalakshi Devi temple. Local conveyance is easily available to visit the temple.