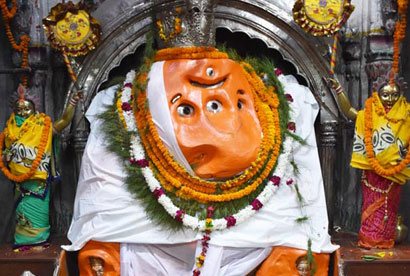 As per a saga described in Kashi Khand, the Vakratunda Vinayak form of Lord Ganesha is included in the Ashta Pradhan Vinayak Yatra. Vakratund Vinayak is also known as Bada Ganesha. In the temple, a large statue of deity is installed in the Sanctum Sanctorum. It is believed that merely by the glimpse of Vakratund Vinayak, all the halted works of devotees are completed and they can attain success. As per the beliefs, Vakratunda Vinayak wipes out all the sins of his devotees and fulfils all their wishes.
In the month of Bhadrapad, birth ceremony of Lord Ganesha is celebrated in the temple with gaiety and fervor. Apart from this, worshipping Lord Vakratund Vinayak on Chaturthi of Magh month is also considered auspicious. During this time, large number of devotees visit the temple for worshipping Lord Vakratund Vinayak.
Best time for Puja
The temple is a stand-alone temple and widely worshipped. The temple is open from 04.45 a.m. to 10.30 p.m. Mangala Aarti is held at 04.45 a.m., Bhog at 10.30 a.m. and Shayan Aarti at 10.30 p.m. Wednesday is a special day when special Aarti is held at 11.30 p.m.
Location of the Temple
Vakratunda Vinayak Temple is located at K-58/101, Lohatia Bara Ganeshji. Local transport is available for the convenience of devotees.