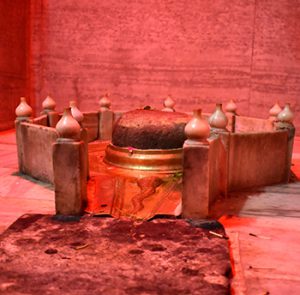 Rameshwaram temple located at Hanuman Ghat of Varanasi is a replica of Rameshwaram Dham situated at sea shore in Tamil Nadu. It is believed that by darshan of this temple located in Varanasi, devotees can obtain same punyafal as that from Rameshwaram Dham situated in Tamil Nadu.
It is believed that Rameshwar Mahadev Teerthadham was established by Lord Shriram, Bharat, Shatrugan, Lakshman and Hanuman. Rameshwaram shivlinga along with Someshwar, Agneshwar, Rachabhishwar Nahuseshwar, Bharateshwar, Lakshmanoshwar, Shastrudheshwar, Dev Panchayat Ling (16 Shivalinga together) are established in the temple premises.
Rameshwaram is a place of religious importance in Kashi's heritage series and it is the third level of Panchkoshi Parikrama of many devotees who visit here from the corners of the country in order to fulfill their wishes.
Best time for Puja
Temple remains open for worship from 06.00 a.m. to 12.00 Noon and from 05.00 p.m. to 09.00 p.m. Shivratri Mela, Lota-Bhanta Mela are prominent festivals held at the Rameshwaram Temple premises from time to time.
Location of the Temple
Ra Rameshwaram Temple is located at B.4/16, in the courtyard of Sri Dashnam Juna Akhara Hanuman Ghat. Local Transport is available for the convenience of Devotees.