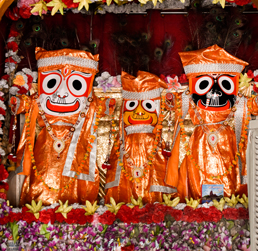 Jagannath temple located near Asi Ghat in Varanasi is a replica of Jagannath Dham situated in Puri of Odisha. This temple was constructed in 1802 by two citizens of the Bhonsale state, Vishwambhar Ram and Beni Ram. It is believed that by darshan of this temple located in Varanasi, devotees can obtain same punyafal as that from Jagannath Dham situated in Odisha. Rath Yatra celebrated in this temple during June/ July or Hindi month of Ashadha is a miniature form of the one at organised in Puri.
Deities Residing in the Temple
Triad deities residing in the temple represents Lord Jagannath, his elder brother Balaram and his sister Subhadra. Rituals and procedure of worshipping the deities are similar to that of the Jagannath temple at Puri. In four corners of this temples, there are idols of four Vaishnavite divinities namely Krishna, Rama Panchayatana, Kaliyamardan as a form of Hindu God Krishna and Lakshmi-Narayana.
History of Rath Yatra
According to the history of Jagannath temple in Varanasi, Rath Yatra was organized in the year 1806, similar to the Puri temple by Vishvabhumar Ram and Beni Ram.
Best Time for Puja
The temple is open from 06.00 A.M. to 12.00 noon and from 03.00 P.M. to 09.00 P.M. Aarties are held in the morning and evening.
Location of the Temple
Jagannath Temple is located at Assi Ghat, Varanasi. Local Transport is available for the convenience of Devotees.